Location
Beddgelert As A Touring Centre
Beddgelert is in the Snowdonia National Park and is situated in some of the most magnificent and unspoiled countryside in Britain. Places of interest to visit in addition to Snowdon are the Passes of Aberglaslyn, Llanberis and Natllrancon. The sea and the beautiful sandy beaches surrounding Cardigan Bay, and the Menai Bridge and Anglesey are within easy reach.
Winner of the 'Keep Wales Tidy 1991', 'Wales in Bloom 1993 through to 2000', 'Britain in Bloom 1993 and 1996', 'Europe in Bloom Gold Medal Winners 1997', 'Queen Mother's Birthday Award' and the 'Queen Mother's Birthday Premier Award for the environmental work'. Beddgelert is known to travellers the world over.
Situated at the head of the magnificent Glaslyn Pass, hard by the junction of the Rivers Colwyn and Glaslyn, it is at the heart of the Snowdonia National Park. Here is spectacular natural beauty in all its varied forms: the rushing streams and placid lakes; the deep forests and wide sandy beaches - all are here in abundance. It is an area without equal in the British Isles, offering endless attractions to the visitor, whatever his or her interests might be.
You can see a map illustrating our location on the contact page.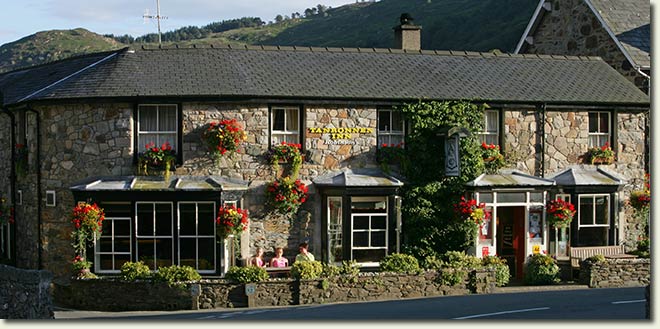 The Tanronnen Inn is delightfully situated in the centre of the village.